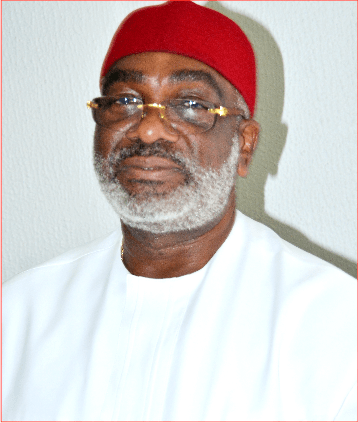 Profile
1. Background.
Senator, High Chief (Dr.) Ben Ndi Obi, CON, FNIPR hails from Awka town in Awka South Local Govt. Area of Anambra State, was born on the 3rd of January, 1956 in Ibadan, Oyo State. His father was a Police Commissioner who hails from Umuogbu village in Awka LGA of Anambra state. His mother was a nurse and Princess from the Royal family of Ototoma in Warri South LGA of the present Delta state. His parents had 6 children three boys and three girls, of which Senator Obi is the 3rd of the six.
Education
His education started at Corona Preparatory/Primary School Apapa, Lagos, then African Church Grammar School Ibadan, on to Igbobi College, Lagos and onwards to Sc. S Business Technical Institute, New York, in the United States where he attained Honors in Business Management in 1986, and thereafter, a Masters Degree in Philosophy at the University of East London (UEL), Stratford, England.
Family
Senator Ben Obi is a devoted Anglican, married happily and with children.
Work Experience/Politics
Civil service.
Senator Ben Obi joined the Federal Civil Service as Transport/ Purchasing Officer in the stores division of the Federal Ministry of Transport and Aviation Lagos. He also worked as Public Relations Manager in the Nigerian Technical Development Company Ltd. Lagos.
Private sector.
In the private sector, the Distinguished Senator is an Executive Director, Joby Builders, Lagos; Chairman Chief Executive Colben Nigeria Ltd, Lagos; Principal Partner A & B Associates Ltd, Lagos; and a Director in the then Societe General Bank Lagos;
Politics.
Senator Ben Obi and some other young Nigerians led by Dr. Tunji Braithwaite founded the Nigeria Advancement Party (NAP) in 1978. He was also a founding member of Social Democratic Party (SDP). From 1991 to 1992 he was the Director-General, Abubakar Olusola Saraki Campaign Organization. He was in 1995, a founding member of the Congress for National Consensus (CNC) and at one time the Acting National Secretary of the CNC. In 1998, he and other Nigerians founded the All Peoples Party (APP) under which he became the foundation National Secretary.
He joined the People's Democratic Party in 2002, having been offered the platform of PDP to contest the Anambra Senatorial elections which he obtained and won virtually unopposed. In 2006, he was among those PDP members that were de-registered by the party which led them into founding the Action Congress of Nigeria on which platform he ended up as the Vice Presidential candidate in 2007.
He was appointed Director-General Aliyu Mohammed Gusau campaign organization in 2010 and thereafter unanimously appointed Director-General of the harmonized consensus campaign organizations of Babangida, Atiku, Aliyu Gusau and Bukola Saraki. In over 35 years of active politics, Ben Obi also served as Political Adviser, Office of the National Security Adviser in The Presidency, Abuja.
As a distinguished Senator of the Federal Republic of Nigeria, Senator Ben Ndi Obi served in various House Committees. He was Chairman Senate committee on Air Force, and was a member in Senate Committees on Power & Steel, Foreign Affairs, Commerce, Finance and also a member in Committee on integration and Cooperation in Africa. He also sponsored the following relevant bills in 2005:
Nigeria Anti-terrorism Agency bill.
2. Anti-terrorism bill.
3. Export produce Federal Powers bill.
4. Nigerian Export Promotion Council Act (Amendment) bill.
5. Nigerian Import Bank Act (Amendment) bill.
6. Export Prohibition Act (Repeal) bill.
7. Export of Nigerian Produce Act (Repeal) bill.
8. Produce (Enforcement of export standards) Act (Repeal) bill.
9. Nigerian Export production villages and Export Houses bill.
Worthy of note is that the Anti-terrorism agency and Anti-terrorism bills were later taken over by the Executive and has since been signed into law by His Excellency President Goodluck Ebele Jonathan (GCON), the former president.
Senator Ben Obi was the Special Adviser to the President on Inter-Party Affairs. He was conferred with the National Honors Commander of the Order of the Niger (CON) by His Excellency President Goodluck Ebele Jonathan on 14th November 2011.
Speeches and Presentations.
With wide interests, Senator Ben Obi also possesses an excellent communication, interpersonal and presentation skills, and is a great motivational speaker. He speaks professionally on a variety of topics such as History, Theology, English Literature, Economics, Arts, and of course Politics, to mention a few and has featured in many events such as:-
Inaugural Conference of Emeagwali Centre for Research Renewable Energy and Material Science (ECRREMS) with the theme – "New Technologies for Emerging Economy, held in Anambra State University, Uli, 11th – 13th March, 2009 where he delivered the Keynote speech.
Anambra State National Summit on Security and Development, held at International Conference Centre , Abuja, November, 2009 with theme "The Political Economy Dimension to Insecurity in Anambra State; A Framework for Peace Stability, Security and development of the State".
He was the Lead Speaker on the Electoral Reform Committee Request and the New Electoral Bill in the Senate, Topic – What are the key components of the forthcoming Electoral Law and what does it say specifically about Electoral Monitoring- at Chinua Achebe Colloquium on Africa held at Bronn University, USA, December 11th 2009.
"State of Insecurity and Implication on the Economy and Social Life in the South East Region of Nigeria," Abuja – South East Economic Summit held at Anambra State Governor's Lodge, Asokoro, 2010.
Awards, Titles & Memberships
Since childhood, Senator Ben Obi always had a prominent or leadership role in diverse forms. He was a Captain of the Volleyball team and won the Best Volleyball Player award in 1973. He was in the Football team likewise the Debating team, also was a House Prefect, and a Chorister in church.
Awards
Five Star Paul Harris Fellow of Rotary Foundation of Rotary International
Honourary Doctor of Science Degree (D.Sc.), Usmad Danfodiyo University Sokoto – 2003.
Chieftaincy titles
He is the very first High Chief of the Awka Kingdom, and has well over 25 other Chieftaincy titles from all over the country.
 He initiated Zik's lecture Series in the Faculty of Social Sciences, an annual academic event as a legacy in memory of the Legendry Zik of Africa.