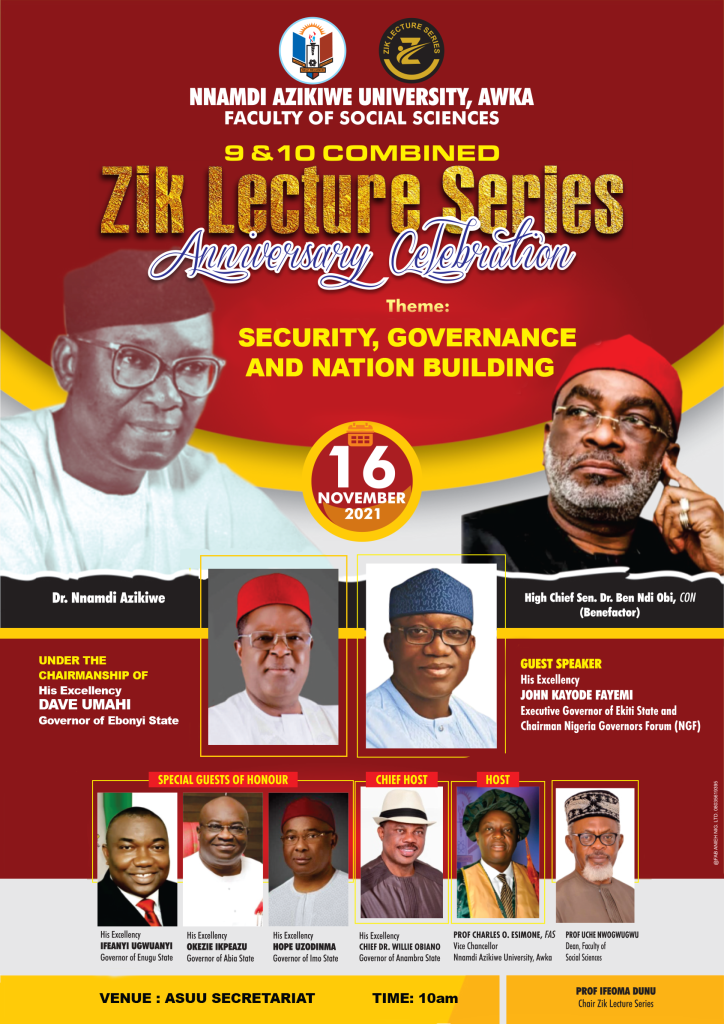 All is set for the 9/10th combined Zik Lecture Series (Anniversary Edition) organized by the Faculty of Social Sciences, Nnamdi Azikiwe University, Awka.
The Annual Zik lecture series was instituted by Distinguished Senator Ben Ndi Obi, CON, as a platform for immortalizing the name of the Rt. Hon. Dr. Nnamdi Azikiwe, GCFR, the doyen of African nationalism and Nigeria's independence struggle.
This special edition which will hold on Tuesday, 16th Nov. 2021 (Zik's Birthday), has drawn a crop of renowned scholars of international repute, experts, and eminent dignitaries that will do justice to the theme of the series- 'Security, Governance and Nation Building'.
To do justice to the theme is His Excellency, John Kayode Fayemi, the Executive Governor of Ekiti State, and Chairman, Nigerian Governors Forum.
To chair this auspicious event is His Excellency, the Executive Governor of Ebonyi State, Engr. Dave Umahi while the Executive Governor of Anambra State, His Excellency, Chief Willie Obiano is the Chief host of the event.
The special guests of honour include the Executive Governor of Enugu State, His Excellency, Rt. Hon. Ifeanyi Ugwuanyi; the Executive Governor of Imo State, His Excellency, Hope Uzodimma and the Executive Governor of Abia State, His Excellency, Okezie Ikpeazu.
This is a highly anticipated intellectual harvest and second to none.
Save the date as we converge yet again to celebrate a driving force behind the nation's independence, hero of all generations, and an international icon whose imprint on the sands of time will never be eroded.